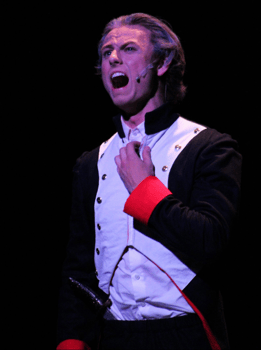 ---
What does a man of mercy really look like?
I have been pondering this question for the last few weeks. This question first came to mind when my son, Michael, played the part of Jean Valjean in Les Misérables.
Valjean is a thief who runs from the law and breaks his parole. He takes on a different name and starts a brand new life. Through the kindness and mercy of a priest, he vows to live differently. He is tested several times to see if he will show mercy to others.
When Javert, the police inspector, finally discovers him, he doesn't believe that Jean Valjean could have turned into a good man… saying,
"I've hunted you across the years

A man like you could never change…"

"Once a thief, forever a thief"
Jean Valjean responds to Javert with these words…
"You are wrong, and always have been wrong.
I'm a man, no worse than any man.
You are free, and there are no conditions,
No bargains or petitions.
There's nothing that I blame you for.
You've done your duty, nothing more."
When he has an opportunity to exact vengeance on the man who desires justice without mercy, Jean Valjean releases him and shows him mercy.
As Jesus followers, we are people who have been shown mercy.
We read in our Bibles that Jesus can transform broken lives and we sing songs about His great mercy. We can give all the correct theological statements about the forgiveness and mercy of God.
But, I wonder if we really believe it.
Do you really believe that God's power is enough to change a life?

Do you find yourself in a place feeling like his mercy works for everyone except for you?
As Jesus followers I think these two verses from 1 Peter speak to this…
1 Peter 2:9-10 (NIV)
9 But you are a chosen people, a royal priesthood, a holy nation, a people belonging to God, that you may declare the praises of him who called you out of darkness into his wonderful light.
10 Once you were not a people, but now you are the people of God; once you had not received mercy, but now you have received mercy.
There are at least 7 truths to observe about our identity presented here.
We are chosen by God - that is humbling… we all want to be chosen (Eph. 1:11)
There is a sense of royalty in us - if He is the King of Kings we are His children, and heirs (Rom. 8:17)
Every Jesus follower is called a priest here - there is a place of direct access to God without going through another human being & a call to serve and offer spiritual sacrifices to God (1 Peter 2:5)
We are apart of a "holy" nation – holy means to be set apart from sin and set apart for God's use, being a part of a nation is indicative of being part of a larger tribe (1 Peter 1:15-16)
A People belonging to God - belonging is such an important aspect of life for all of us.We belong to Him (1 Cor. 3:23)
We have an identity - we are the people of God.

There was a time when we did not belong to God and were not considered "God's people."

We have received mercy.

There was a time when we were dead in our sins and had not experienced the mercy of God.
Since all these things are true about us, we can boldly tell the stories of what God has done in our lives. We are to "declare" the wonderful deeds of Him who called us out of darkness into his wonderful light.
So, if we tell the stories of what God has done – they all are in the context of having received mercy from Him. These are the things that God has done for us in the past.
St. Augustine said, "Trust the past to the mercy of God, the present to His love, and the future to His providence."
Do you trust that God really will forgive ALL the sins in your past?

Do you believe that God's power is enough to turn a thief into a role model?
Are you stuck in the same unforgiving place as the police inspector?
Jesus certainly valued the thief on the cross enough to have a conversation in his final hours on earth. The grace and mercy of God is good for every person, to cleanse every sin, even until the moment of your last breath.
If believing God's mercy is bigger than your mistakes is difficult for you, it's time to process this truth some more. You don't need 8 more Bible verses to convince you - you need a safe friend to process with. I want to encourage you to let someone you trust have a peek inside your heart and pray with you and process with you how you can grow toward a place of "loving mercy." (Micah 6:8)
Let us remember Matthew 5:7, "Blessed are the merciful, for they will be shown mercy."