---
C.S. Lewis is probably best remembered as the author of The Chronicles of Narnia.
C.S. Lewis, known also as Jack, grew up in Northern Ireland in the early part of the last century. After moving to England, he enjoyed returning to Northern Ireland visiting the Murlough house by the sea on his vacations. Last year I had the privilege of staying at Murlough during my pilgrimage to Ireland.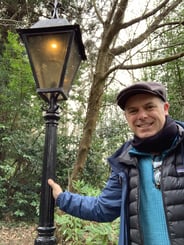 It was at Murlough that Jack was inspired and wrote parts of the Chronicles of Narnia series.
Lewis said the area inspired much of how he described Narnia in his books. Although his friend J.R.R. Tolkien teased him that the book series was too obvious in its references to faith in Jesus Christ, Lewis wanted his readers to quickly see Biblical truths in the allegory.
As much as Narnia was a place where the Pevensie children were brought to so they could get to know Aslan – Lewis also creates a desire in this series for Aslan's country. Aslan's country is the picture of heaven that Reepicheep (the oversized courageous mouse) longed to experience.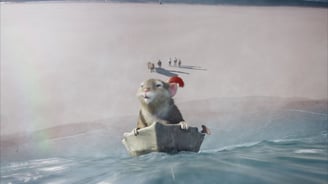 Reepicheep says, "While I can, I sail east in the

Dawn Treader

. When she fails me, I paddle east in my coracle. When she sinks, I shall swim east with my four paws. And when I can swim no longer, if I have not reached Aslan's country, or shot over the edge of the world in some vast cataract, I shall sink with my nose to the sunrise." (

The Voyage of the Dawn Treader

, p 24)
Hebrews 11:16 says our heroes in the faith, "were longing for a better country – a heavenly one." The patriarchs had this deep yearning because they longed to be with God.
Jack wanted Christians to long for their true home, heaven.
There was a Christian woman in America who thought she was dying, and he wrote to her these words to refocus her on expecting the goodness of heaven:
"Can you not see death as a friend and deliverer? . . . What is there to be afraid of? . . .Your sins are confessed. . . . Has this world been so kind to you that you should leave with regret? There are better things ahead than any we leave behind. . . . Our Lord says to you, 'Peace, child, peace. Relax. Let go. I will catch you.'"

Lewis added, "Of course, this may not be the end. Then make it a good rehearsal." He signed the letter, "Yours (and like you, a tired traveler, near the journey's end)." (Letters to an American Lady, p 117)
Five months later, the Clive Staples Lewis died. That was 56 years ago, today.
In the book Mere Christianity, Lewis said we haven't been trained to want heaven:
"Our whole education tends to fix our minds on this world. …when the real want for Heaven is present in us, we do not recognize it. Most people, if they had really learned to look into their own hearts, would know that they do want, and want acutely, something that cannot be had in this world. There are all sorts of things in this world that offer to give it to you, but they never quite keep their promise…If we find ourselves with a desire that nothing in this world can satisfy, the most probable explanation is that we were made for another world." (Mere Christianity, p 119)
Our culture only wants to think about heaven when a loved one dies, and even then the concept of an after life is generally not tied to the biblical reality of heaven. A healthy, biblical view of heaven helps us persevere and look forward with great hope.
What are you living for today?
Are you only living for the moment today, or do you have eternity in mind as well?
Will you stop and ponder the goodness of God and reality of heaven today?
2 Timothy 4:7-8 (NIV)
I have fought the good fight, I have finished the race, I have kept the faith.
Now there is in store for me the crown of righteousness, which the Lord, the righteous Judge, will award to me on that day--and not only to me, but also to all who have longed for his appearing.
I want to live this life everyday longing for my home in heaven, while being fully present to love and serve Jesus and the people in my life. Holy Spirit give us strength to finish this race of life well!