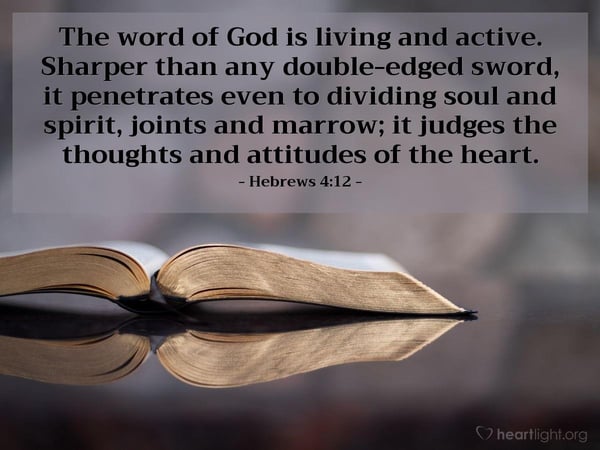 ---
When you sit down to read the word of God, what does it look like?
Is it a powerful time of revelation, a time of sweet refreshing, or, like so many others, is it a time of confusion and feeling all to unequipped to do it on your own? Over the last few years, I have been on a personal journey of re-discovering the word of God in a way that brings Hebrews 4:12 to life.
"For the word of God is alive and active. Sharper than any double-edged sword, it penetrates even to dividing soul and spirit, joints and marrow; it judges the thoughts and attitudes of the heart."
I can say that throughout my walk with Jesus I have had beautiful moments of experiencing how scripture is alive and active, but this part about it "penetrating- even to dividing soul and spirit, joints and marrow" was something I just had to take in faith. As I have re-examined the way I approach The Word and I have begun to study, I mean study, it deeply, I begin to not only read it in a more meaningful way, but for a more meaningful reason.
How do you approach the bible?
1. THE XANAX APPROACH
This treats the bible as if it exists to make me feel better, as if it is my anti-anxiety pill I should take every morning to start my day off right. After all, Philippians 4:6 says be anxious for nothing. As long as I feel better after reading the word, then I must have done it right.
The Problem: This approach makes the bible about how it can serve me, as opposed to how I can serve the God it proclaims. I must remember that the bible doesn't always comfort. If my intention in reading the word is finding comfort and feeling better, I will even leave entire sections of my bible unread. I mean, who really wants to read Lamentations when looking for comfort?
2. THE PINBALL APPROACH
I read whatever passage I turned to, "as the spirit leads." I simply read whatever scripture I turn to that day. So often that "led" me to Proverbs or Psalms for my daily "dose" of holiness.
The Problem: The bible wasn't written to be read like this. This approach ignores historical context, authorship, or even original intent of the passage. Imagine trying to master algebra by randomly reading 10 minutes a day from whatever section of the book you turn to.
3. THE MAGIC 8 BALL APPROACH
Wondering about what I should do in any given situation? Give my bible a vigorous shake and open it , then point randomly to a verse on the page. There's my answer!! This was a particularly good approach when I really needed a word from God. For example, when I needed a yes or no answer to my specific question that day.
The Problem: The bible is not magical and it does not serve my whims, nor is its primary function to answer my questions. Can it? Yes! Will it answer them when I read for answers? Yes! However, this approach demands that the bible tell me what to do, not who to be. It also makes the bible about me instead of about the God who inspired it.
4. THE PERSONAL SHOPPER APPROACH
(A.K.A The topical bible study)
Any topic I want to know about, I can just go to [insert favorite bible teacher here] to do all the legwork for me. He/she will hand select all the relevant verses for me and deliver it to my doorstep (one size-fits all).
The Problem: This approach does not help me build my ownership of scripture. I gain a surface understanding of pieces and parts of scripture, but mastery of none. This approach offers value as a supplement to- not a substitute for- studying the bible. If this is all I ever do, I miss out on the richness of learning a book of the bible from start to finish. A well-rounded approach to bible study addresses a topic as it arises in Scripture, rather than attaching Scripture to a topic.
5. THE TELEPHONE GAME APPROACH
When I read books about the bible in place of reading the bible for myself, I risk the message becoming mixed up just like the childhood game of telephone. If I can quote [insert favorite bible teacher here] more than I can quote Jesus, or Paul the apostle, I am probably using the telephone game approach.
The Problem: I am called to love the Lord God with all of my mind, not [insert favorite bible teacher name here]'s mind. While what others have to say about the bible can be very helpful, it cannot become a substitute for my own study. Relying on the findings of others removes me from the struggle with understanding. When I resist the struggle, my spiritual muscles are not being formed and I don't "own" the scriptures in the same way I do when I wrestle with it myself and God brings His understanding.
6. THE JACK SPRAT APPROACH
I use this approach when I read the New Testament, but other than Psalms and Proverbs I avoid the Old Testament. Or, maybe I prefer to read books I can relate to, perhaps John is my favorite gospel so I don't read Matthew, Mark or Luke. And, of course, Revelations rarely gets dusted off.
The Problem: All scripture is God-breathed and profitable. All of it. We can't fully appreciate the New Testament without a complete understanding of the Old Testament. It helps us to build a collective understanding of how the Bible as a whole speaks of God.
A more meaningful WAY
All of these approaches have value at different times in our relationship with God. They can all be meaningful supplements. However, we must first build a foundation of understanding. As we approach the word with the intent to understand it, we might start by looking for things like:
Who that author was and what we know about him
What his reason for writing this book was (intent)
What the historical context surrounding the text was
What the text actually says, not the speculation added by most commentaries
These are just a few "study tools," and so many more are available to help you meaningfully study God's word. What a world of understanding, faith and transformation is opened up to us when we approach God's word to build a solid foundation.
A more meaningful REASON
Not only should I approach the word in a more meaningful way, but with a more meaningful REASON in mind. Instead of seeking my needs first during my study, I can FIRST approach God's word to simply SEEK GOD and understand what His word says about Him. As I begin to meet God in the pages of His Word, I no longer need to look at the bible as my "road map," only picking it up when I need direction. I don't need to focus on the bible bringing "me" comfort, causing me to "cherry pick" my scriptures. And, I certainly don't need to shake my bible like a magic 8 ball for answers, as His peace will reside in my spirit whether I have an answer or not.
(* the above titles are referenced from the book "Women of the Word", by Jen Wilkin.)
I will be comforted, even when reading Lamentations, because I will have a deeper understanding of my unchanging God.
I will then learn to trust God for Wisdom as I study about King Solomon.
My deep-rooted struggle with impatience will give way to trusting God as I read about how David, after being anointed King, waited for 20 years for the Lord to make it happen.
I will gain freedom in evangelism when I read John and understand that other's salvation is not dependent on my saying the right thing, but on the Father drawing them.
The things "I" so desperately seek out for "myself" in the Bible will all fall into alignment with God's plan as I pursue His Word FIRST to know HIM and with the intention of building deep understanding.
Now what?
When you think of your own journey with the word, how do you feel? Excited, overwhelmed, intimidated?
Does your bible sit on the coffee table waiting to be opened?
It is my prayer that we become a church known for our great foundation in the word! A generation, young and old, intimately familiar with Hebrews 4:12, the living and active Word of God that will penetrate our minds, and hearts, and spirits.
"For the word of God is alive and active. Sharper than any double-edged sword, it penetrates even to dividing soul and spirit, joints and marrow; it judges the thoughts and attitudes of the heart."